building a healthy hospital in Gothenburg…
Sahlgrenska, an Urban Hospital Case with a 'Life Project'
A collaboration between the University of Gothenburg with the Region Västra Götaland and property owner, Vitartes, are planning a new urban vision called the Sahlgrenska Life project.
The project's vision and goal is to bring new knowledge to care quicker through the construction of three new buildings that will physically link Sahlgrenska University Hospital with the University of Gothenburg's operations at Medicinareberget (1).
the vision of providing a comfortable experience to its visitors and residents. Located in Gothenburg between a National reserve and botanical gardens, Sahlgrenska provides emergency and basic care for 700,000 inhabitants across the region with a 2000 bed capacity in its sixteen floors (2). Its services specialize in cardiovascular care, reconstructive surgery, children's care, vaccinations, immunology, rheumatology, and catheter interventions 

Gathering evidence to develop the urban hypothesis
Recently, the hospital's main plaza the Blä sträket (Blue Line) was renewed predominantly with hard landscape materials and few green and blue elements. As advocates for regenerative landscapes, Chalmers CVA – Centre for Healthcare Architecture – and BHL Building Health Lab, joined efforts to study at site environmental threats  which may be affecting the health of users and energy management of the campus.
Using the UrbanCare research framework, field studies were conducted as a first step aiming to co-organizing in 2022 a series of transdisciplinary problem-solving workshops with key stakeholders. 
Pedestrian obstacles to the most vulnerable
The hospital is across several Gothenburg university's departments separated by a large transit avenue with car lanes, tram tracks, and bus lines. Most of its surroundings are heavily trafficked streets and vast unsheltered parking lots posing various challenges to pedestrians.
Building entrances, including the main hospital building, meet with asphalted car lanes. Pedestrian zones, such as the plaza, seating areas, and bus stops, are mostly disconnected from each other and paved with hard surfaces.
Sidewalks in general are spatious, however discontinuous and interrupted by a widespread carscape.
Evaluations are performed to assess street level needs and requirements of children, the elderly, and people with different kinds of physical and/or cognitive impairments or disabilities.
A threat to people and energy management
mild summers and moderate cold winters. The annual temperature has few peaks however, recent records show temperatures surpassing 30° C in summer, which is 8 to 10 degrees higher than the average temperature at this time of the year (3). In the near future, Gothenburg is likely to experience frequent heat waves and increased urban heat island stress (4) and its negative effects on health and energy efficiency of buildings.
For instance avoidable urban heat spots may increase up to 19.0% cooling energy consumption (5). As for public health, it is proven to cause large death tolls and the increase of heat-related diseases such as heart attacks, cardiovascular diseases, kidney failure, respiratory problems, or metabolic disorders. This affects at most the elderly, persons with chronic diseases, socially isolated groups or individuals, and outdoor workers (6)
A public health problem with high water treatment costs
more frequent and prolonged rains. As stated in a recent article by the City executive office, a high risk of flooding in several parts of Gothenburg is foreseeable (7).
Sealed surfaces bring together most, if not all, environmental degradation issues, especially rainwater runoff.
Runoff disrupts hydrological cycles, requiring expensive stormwater infrastructure to protect ground and surface water quality. Therefore, a detailed effort is set into describing the porosity and heat retention capacity of hardscape materials as well, its most important features:
Dimensions; Color; Appearance; Profile Feature; Spacer nibs; Breaking load; Abrasion resistance; Weathering resistance; Method of manufacture, etc.
Efforts are set into describing the porosity and heat retention capacity of various hardscape materials at the site.
Our own survival at stake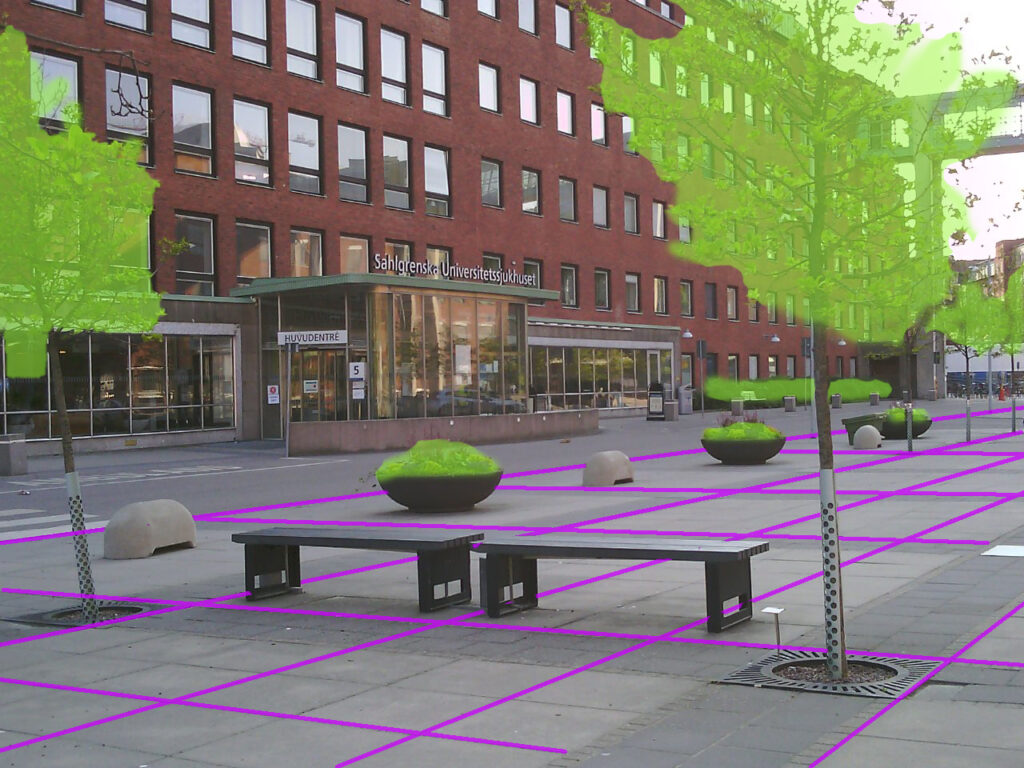 The campus has large surfaces of asphalt, concrete, and other hard surfaces which summed together are way under the 274 m² of green space per person average of the region (8). The loss of green cover, high levels of emissions, and load of suspended particles, without doubt impairs the air quality from the nearby botanical garden and green belts (9).
The amount of hard surface in comparison to green ones are measured and the 'Biotope Ratio' is estimated.

Immersive Data Model under development …
UrbanCare Sahlgrenska,
developing a regenerative landscape
for public health and energy management
Alvaro Valera Sosa & Göran Lindahl (2021)
CVA Chalmers
Göran Lindahl: Project adminstration, Funding adquisition, Supervision
[email protected]
BHL Building Health Lab
Alvaro Valera Sosa: Conceptualization, Methodology, Investigation
[email protected]
BHL Building Health Lab
Alvaro Valera Sosa: Original draft, Writing-reviewing, Editing, Design, Administration.
Netra Naik: Original draft contribution; Software, Data curation.
Julia Reißinger: Software, Data curation.
1) https://www.gu.se/en/news/continued-work-and-decisions-regarding-sahlgrenska-life
2) Sahlgrenska University Hospital. (n.d.). Sahlgrenska I.C. Retrieved October 11, 2021, from http://www.sahlgrenskaic.com/medical-care/sahlgrenska-university-hospital/
3) https://eurocities.eu/cities/gothenburg/
4) Sandra C. Valencia. (2019). Localisation of the 2030 Agenda and its Sustainable Development Goals in Gothenburg, Sweden. Mistra Urban Futures Chalmers UniversityofTechnology. https://unhabitat.org/sites/default/files/2021/06/gothenburg_2019_en.pdf
5) https://www.smhi.se/data/meteorologi/ladda-ner-meteorologiska-observationer#param=airTemperatureMinAndMaxOnceEveryDay,stations=all,stationid=71420
6) City of Gothenburg,City Executive Office. (2015). Climate Adaptation in Gothenburg – anoverview.https://carbonn.org/uploads/tx_carbonndata/Climate%20Adaptation%20in%20Gothenburg%20-%20an%20overview_2015.pdf
7) https://www.sahlgrenska.se/en/about-the-hospital/
8) Li, X., Zhou, Y., Yu, S., Jia, G., Li, H., & Li, W. (2019). Urban heat island impacts on building energy consumption: A review of approaches and findings. Energy, 174, 407–419. https://doi.org/10.1016/j.energy.2019.02.183
9) Paravantis, J., Santamouris, M., Cartalis, C., Efthymiou, C., & Kontoulis, N. (2017). Mortality Associated with High Ambient Temperatures, Heatwaves, and the Urban Heat Island in Athens, Greece. Sustainability, 9(4), 1–22
○ Climate friendly & biodiverse landscapes help cure chronic diseases
○ Community care closer to people improve patient outcomes