Creating typologies for the continuum of care 
Techné is a Technical Science for Health – Network that is coordinated by the WHO in which different partners provide support to frontline workers, including hospital/facility managers, Ministry of Health, and other ministries (civil protection), NGOs, and implementing partners on the ground, by delivering reports for the development, retrofit and refurbishment of buildings for health care where most needed.
Supporting this mission, the Design and Building Sciences Department of the Architecture Institute at TU-Berlin is steering collaborative efforts to launch a practical framework and a collaboration platform that can guide the development of evidence-based reports.
Defining the Continuum of Care
This framework seeks to improve the health of all communities and people beyond hospital buildings, at different environments, settings, and workplaces. It takes in the knowledge, experience, and actual use of buildings and landscapes for care delivery around the globe proven to meet the health needs and requirements of citizens within their specific spatial, socio-economic, and cultural contexts.
The case studies we structure undergo an evidence-based design approach that helps validate site specific information on social and health problems, methods, assessment instruments, building specifications employed, and health-related outcomes reached. Summaries are then fashioned to trigger or strengthen partnerships and collaborations towards projects that may gather further evidence.

A collaboration platform is also proposed to support the continuum of care framework to call for multiple sectors, institutes, experts, and professionals in health and/or building design, to work together and make knowledge available.
Members are encouraged to participate in lectures, courses, conferences, and transdisciplinary workshops that use case structuring and problem-solving techniques which enable evidence-based design research and building planning. The methods employed, and results attained are discussed and developed into guidelines, standards, procedures, and policies, which are prepared for dissemination with our partner the Cities & Health Journal.
Evidence-based Design Research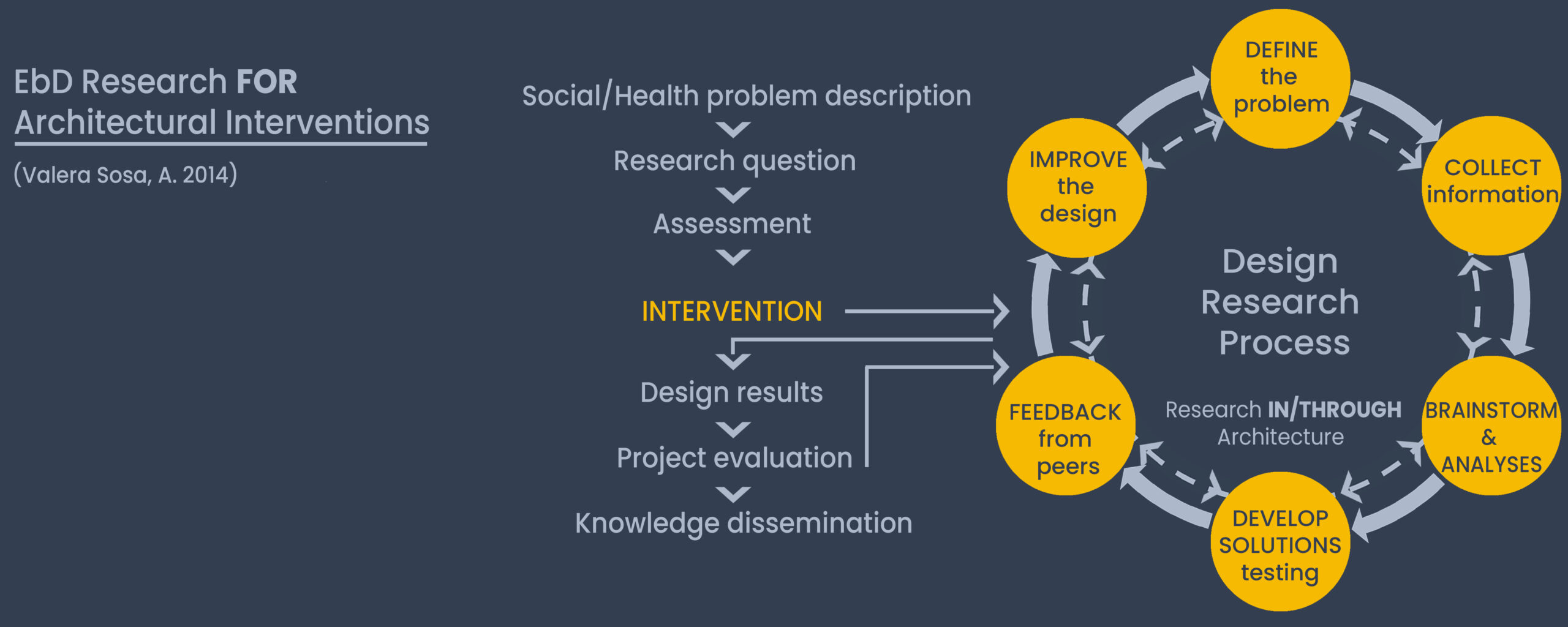 whether or not scientific methods are being used to develop physical environments and measure its health-related outcomes. 
Most healing architecture and E-bD practitioners tend to directly apply findings from environmental health and environmental psychology studies to their interventions. The most commonly applied findings are environmental factors such as light, noise, smell, and temperature, which are well-known to affect our overall sense of wellbeing and health. This automated practice is what Kirk Hamilton calls first level practitioners in his 4 level evidence-based practice model. 
Evidence-based Design Research
At our department, E-bD is a working framework that takes in health research and building design together with a transcisciplinary approach. We develop and test methods, tools, and strategies to evaluate how spatial arrangements and design quality improve various health-related outcomes affecting staff, patients, relatives, and visitors.  
For more information on E-bD research for health, our contact person is Alvaro Valera Sosa
environments to build health
Health promotion is the process of enabling people to increase control over, and to improve their health (2). WHO website info here!
settings to target disease
Disease prevention is a procedure through which individuals, particularly those with risk factors for a disease, are treated in order to prevent a disease from occurring. Treatment normally begins either before signs and symptoms of the disease occur, or shortly thereafter (3).
workplaces to cure disease
Clinical care teams physicians, nurses, physician assistants, clinical pharmacists, social workers, and other health professionals that to establish lines of collaboration, communication, and cooperation that better serve patients' needs (4).
Evidence-based Design Research collaborative:
BHL Building Health Lab
Alvaro Valera Sosa: Original draft, Writing-reviewing, Editing, Design, Administration.
Netra Naik: Software, Data curation.
Julia Reißinger: Software, Data curation.
1. Evashwick C. Creating the continuum of care. Health Matrix. 1989 Spring;7(1):30-9. PMID: 10293297.
2. Health promotion. (2019, November 15). WHO | World Health Organization. https://www.who.int/health-topics/health-promotion#tab=tab_1
3. (n.d.). Nature. https://www.nature.com/subjects/disease-prevention
4. Doherty, R. B. (2013). Principles supporting dynamic clinical care teams: An American College of Physicians position paper. Annals of Internal Medicine, 159(9), 620. https://doi.org/10.7326/0003-4819-159-9-201311050-00710